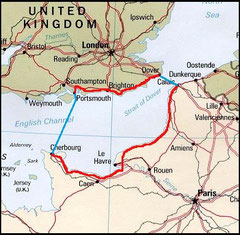 Having always been interested in the D-Day beaches, my good friend John suggested that we cycle from Cherbourg to Calais, and then from Dover back to Portsmouth where we were living. Covering more distance this time, we cycled about 500 miles in all, taking in the sights, sounds and smells of the Normandy beaches. Through cycling the length of all the D-Day beaches we got to witness just how much the Germans had built in coastal defences, with a majority of the concrete structures still standing today. It was impossible to imagine the harrowing times these beaches had been part of, especially as we saw the area in a friendly and helpful light.
The trip was full of excellent moments, such as being fed at a campsite by a couple of friendly Americans, cycling at high pace for a couple of hours on empty roads at night and enjoying loads of excellent French hospitality.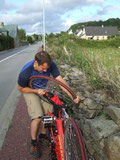 Although, on this trip we did have our fair share of mishaps and mechanical failures, like having to replace a rear derailleur after only 5 miles, due to a jersey being ripped of the back rack and going into the gears, taking the rear derailleur with it! Saying that, moments like these really added to the journey, giving it an uncertainty that made it feel all the more like an adventure.